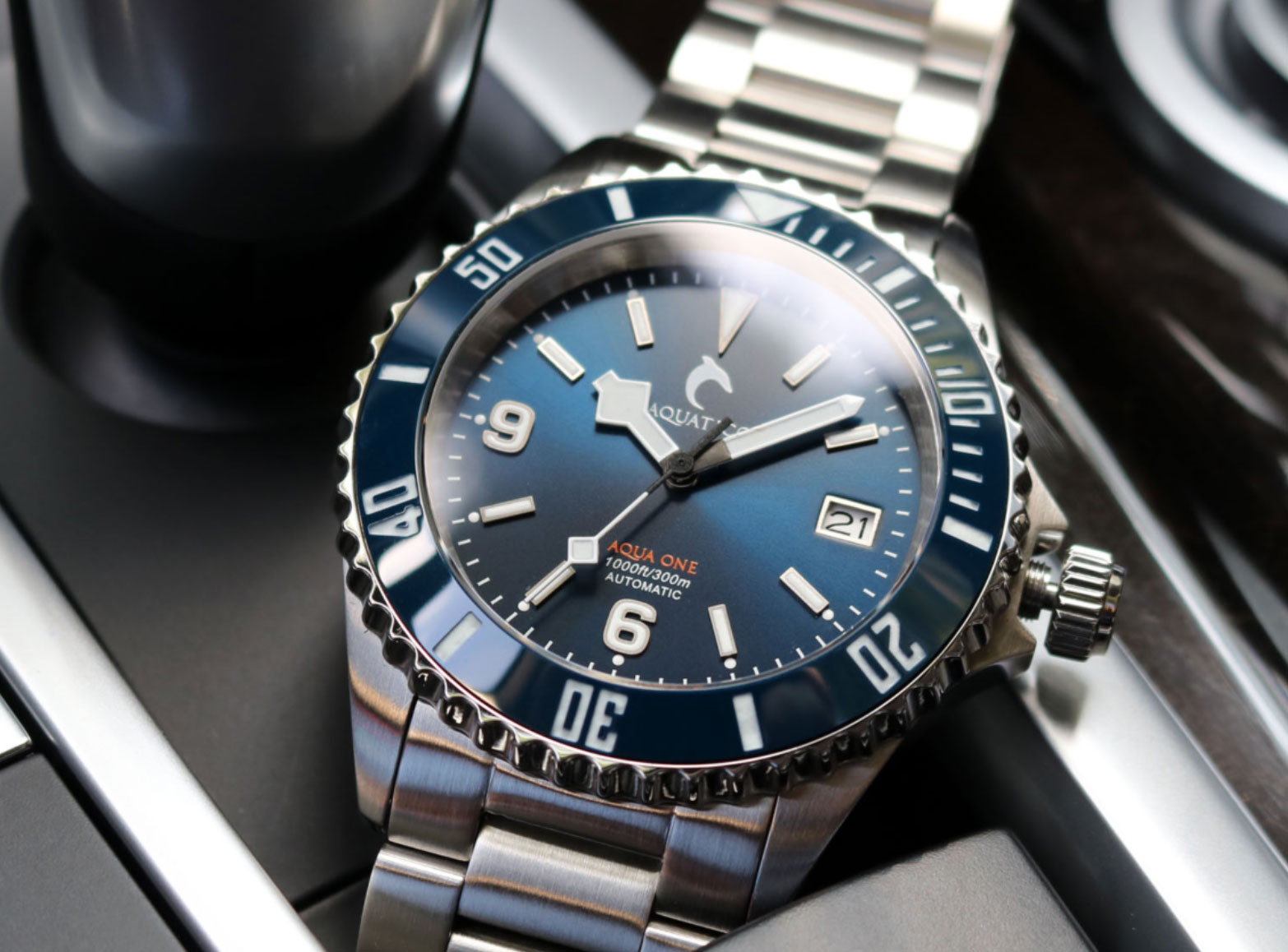 I'm not sure how the Aquatico Aqua One ended up on my radar. At that point, in late 2017 I was already quite into my micro brands and subscribed to a lot of pages on Facebook. I'm guessing Aquatico posted something about their new model and at first sight it mainly just looked like another Submariner copy.
At some point later I noticed an update, in which you could get a blue face with snowflake hands. What more, the hands had that gorgeous floating effect when they're solid white with black near the center. The effect maybe first widely recognised from the Rolex Explorer 2.
That, shared in some rather decent imagery and with a temptingly low price point sealed the deal. It arrived from China a few weeks later.
What's the Aquatico Aqua One like?
This version of the Aqua One steals and borrows shamelessly from Rolex and Tudor and lands in a rather decent combination with a good looking dial as the main attraction. The white snowflake hands with the black center are maybe what I like most about this watch. You could also buy it with mercedes hands and it just looked so boring in my eyes. I'm really not a fan of mercedes hands.
The second feature to highlight is the beautiful blue sunray dial. It's dark blue and they've managed to match it well with the dark blue ceramic bezel. The bezel is 60 clicks uni-directional but feels a bit off the shelf and has a polished surface which doesn't match the case and bracelet's brushed finish.
The 42/50/22 dimensions gives you a fairly large watch but the case is slim and overall it's a great all-rounder. I've worn this on many trips, while kitesurfing, and as a daily beater. It's got a bit of sentimental value by now and as a bonus it has one of the ugliest caseback artwork known to man – the infamous mermaid on a dolphin. Because the lugs are quite far out from the case the watch does not look good on two-piece straps which leaves a gap close to the body. It does look great on the fitted oyster bracelet though, and I also often wear it on natos.
Why did I sell my Aquatico Aqua One?
I don't mind my Aqua One, but it just doesn't stand out in my collection that much nowadays and I'd like to replace it with another blue dial diver such as the Seiko Turtle or something akin to a vintage Tudor Submariner.
In fact it's been for sale for some time and the day after I wrote this post someone bought it and I purchased a Seiko SRP773. Law of attraction?