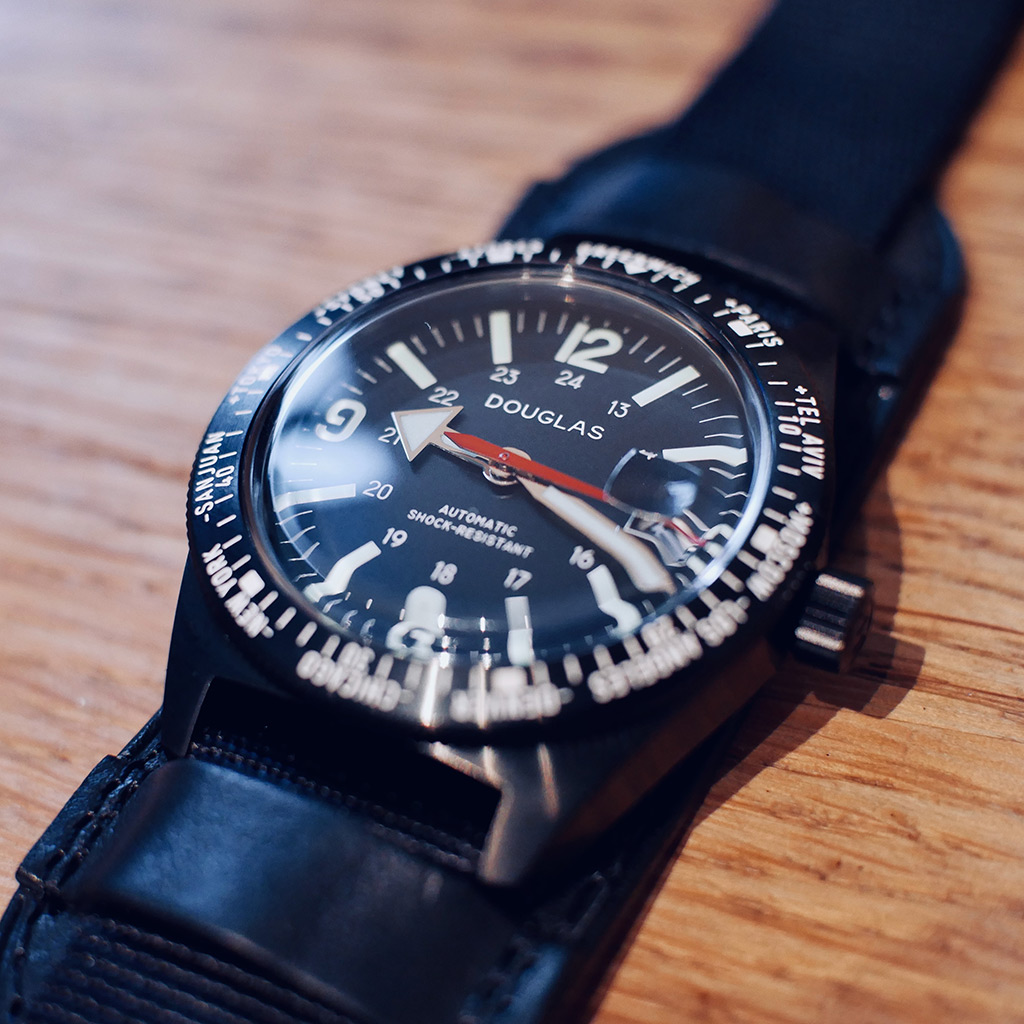 Two for one!
Wolbrook went live with their Kickstarter campaign sometime during or just before the pandemic hit. Their campaign was mega successful and they delivered gallantly (in contrast to others).
And no wonder they were successful. The original offering was a gorgeous looking re-edition of a skin diver from the 60s, right when skin divers were the hottest trend in the watch world. As the campaign progressed they launched more and more stretch goals and variants, so in the end I was too tempted by two quite different looking pieces and ordered both of them with additional bead of rice bracelets.
The rebirth of a brand
Wolbrook is the main brand, based out of France. Douglas was a sister brand they decided to revive also, and dedicate that strand to the 'professional' line sporting a gorgeous hesalite crystal. They decided to revive the brand and push strongly on the tool watch angle. The whole Kickstarter campaign made a massive deal out of the fact that Neil Armstrong has owned a Wolbrook back in the pre-moon days.
Some people, me included found that a bit cringe and forced but it didn't stop us from order a very good looking watch from them. Unrelated back story aside, the watch is a solid offering and since then the brand is pushing on hard, releasing new models and creating a new brand story for themselves.
The watches – Wolbrook and Douglas
Both watches uses the same body and face. The differences lie in colour variations and cystal. The Wolbrooks uses a sapphire crystal with protruding cyclops for the date window, whereas Douglas Worldtimers have a hesalite crystal with integrated cyclops.
I love acrylic and especially on a vintage design like the Worldtimers. I also thought the PVD version looked too good to resist, and this was only available for the Douglas. On the other side of the spectrum I had a rose gold two-tone Wolbrook, and when a two-tone BOR bracelet was announced I could not resist.
Both watches are 40 x 48mm with 20mm lugs and wear really well on the wrist. Inside is a Miyota 8215 automatic movement that has received an upgrade since the launch. Both watches run well however, within +6s/day and the rotor noise has never bothered me.
Living with two of the same watch
Although the Wolbrook and Douglas are the same watch more or less I find the differences large enough to find use for both of them. Douglas became my 'adventure' watch and Wolbrook became more of a daily and dressy watch. Over time I used the Douglas less asI found the PVD coated style less versatile than I had originally anticipated. Indeed, the Douglas is now for sale if you're interested, while I'm holding on to my Wolbrook for now at least.