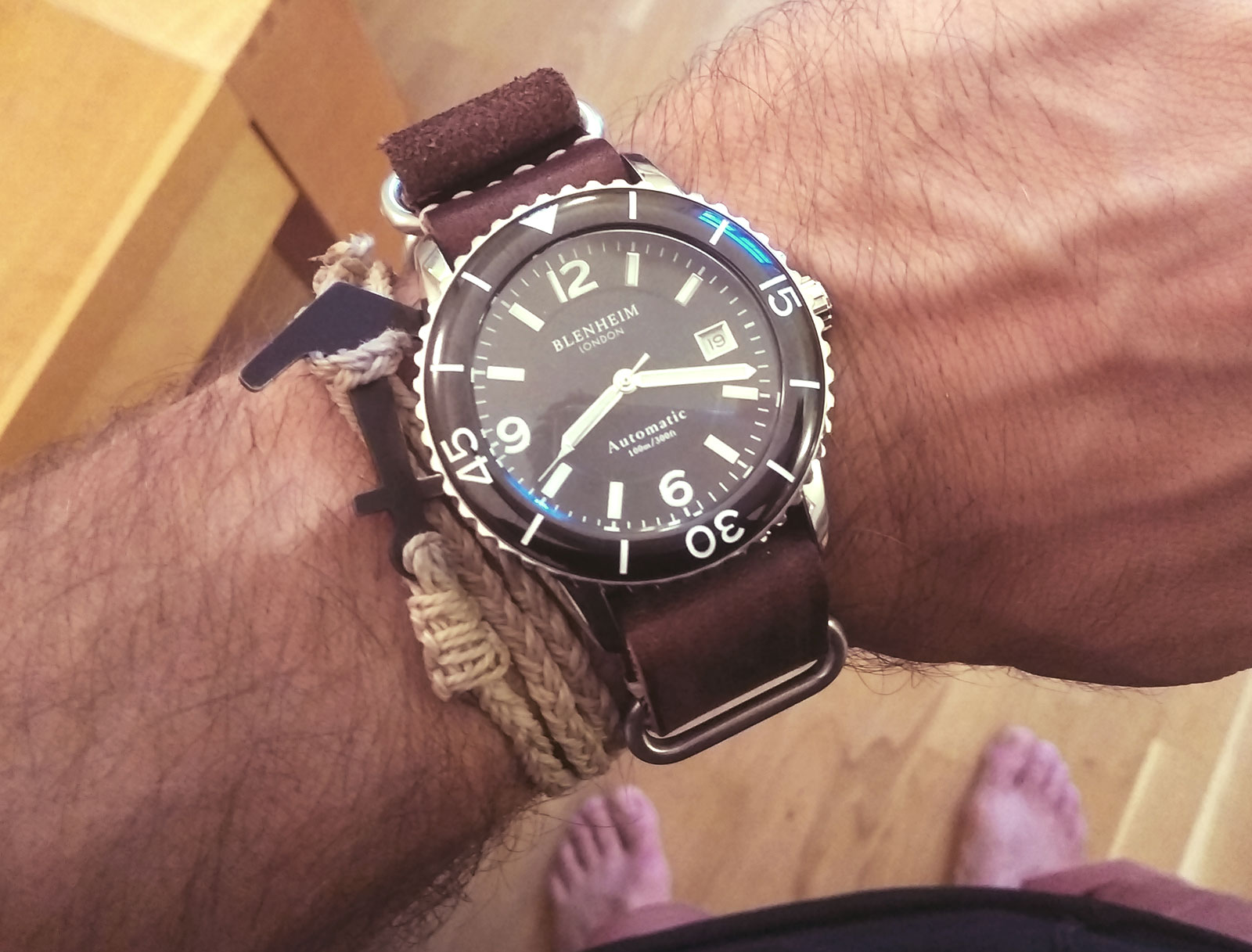 The Blenheim was a Kickstarter watch that didn't stay long in my possession. I'm not even sure why I backed the project. The watch was cheap, looked ok and I hadn't bought a watch in a while, I guess.
The Navigator Luminous is heavily inspired by the Blancpain Fifty Fathoms. A dive icon that was invented in the 50's and still retails, but for a cool 13G (in GBP). I'm not even a particular fan of that watch and today I know better than getting a tired knock-off from a brand without any type of ethos.
See, that's probably the main issue in this story of watch collecting mishaps. The watch itself was nothing to call home about, but it worked. The materials and finish were ok for the price of £130 (although today you can get better for less on Aliexpress).
The Navi Pro, as the Navigator Luminous was called initially has a Miyota 8215 entry-level automatic movement, a 60-click unidirectional bezel with pretty shoddy rotating action and and materials that feel plastic and cheap.
What was so bad about the Blenheim watch?
What really lacked with the watch however was the backstory, the passion, the brand ethos. There is nothing wrong with being a young microbrand. In fact, I'm gravitating more towards these brands for a compelling narrative associated with my watch than a big player brand who mainly lives on heritage and marketing in todays world.
Unfortunately Blenheim lacks brand ethos completely. The campaign was plastered with the all-too-common brand jargon about wanting to fill the gap in the affordable luxury watch market (what an oxymoron, that!) and wanting to pay tribute to the old guard etc etc.
But who are Blenheim? Just another Chinese factory brand with some presence in the UK. I'm importing catalogue watches with Gloriousdays, but I'm not trying to hide it. Instead I build the brand around the message I'd like my products to remind us off.
Watch collecting is a trial and error, learning by doing type hobby. I was almost leaving out the Blenheim from this list as I only had it for a few months. But it was part of my collection nonetheless and I learnt from the process. Don't be afraid of making mishaps and taking wrong turns as you progress. It's all part of the journey.