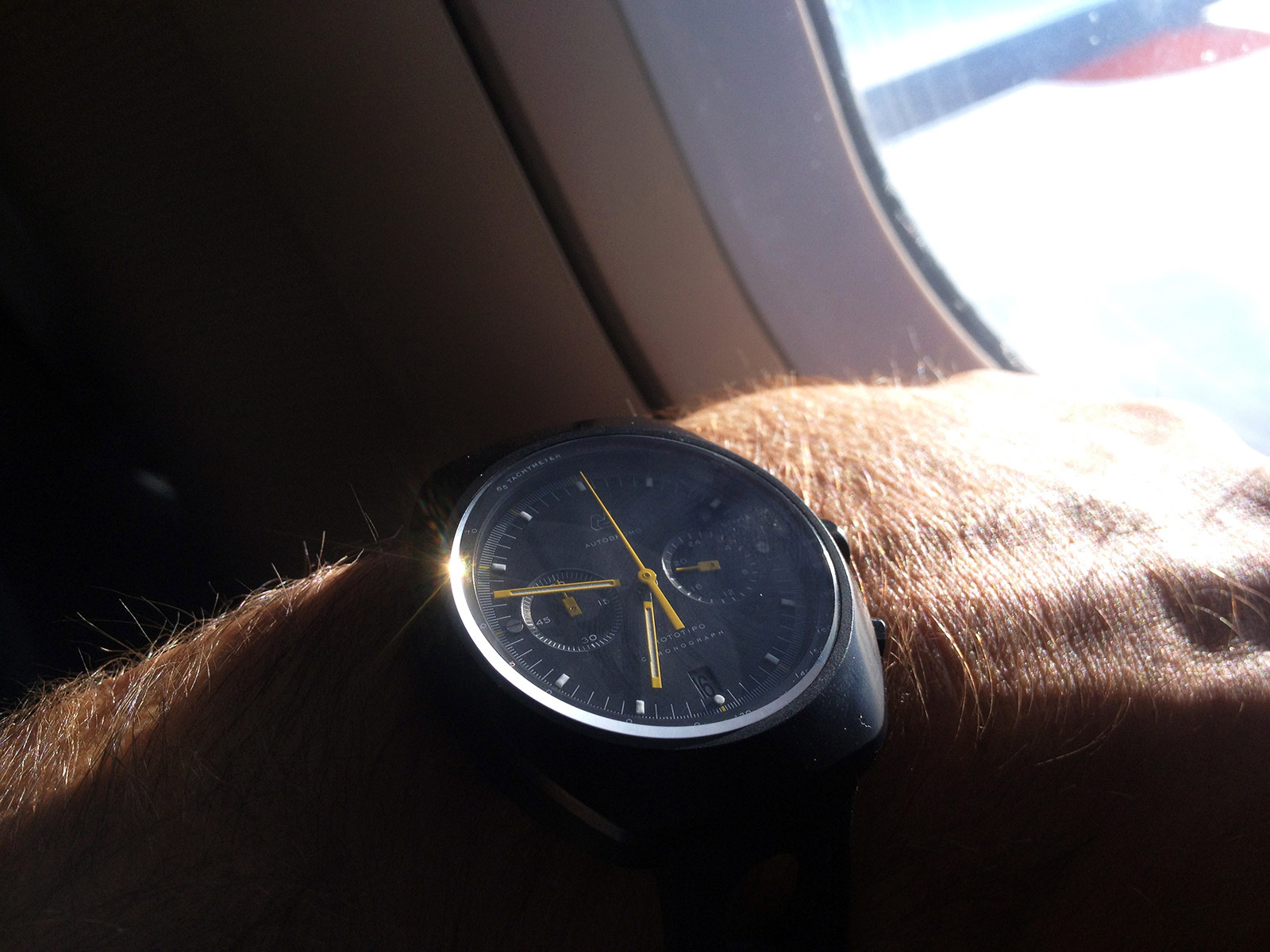 The Prototipo from UK microbrand Autodromo was my first flirt with watches other than my own bamboo watches since I started Gloriousdays. I'd had my eyes on the Prototipo for a long time before I bought it. It was just one of those designs that speaks to you.
The model is since long sold out and I've got no idea why Autodromo isn't renewing their stock. Originally I fell for the stainless steel case with dark blue dial, but when I finally pulled the trigger on one I went for the black PVD version with yellow accents. To this day that is still the version I like the most, and it arguably has the best contrast and legibility too.
For me to buy a £500 Quartz watch was something totally new, and something I'd today most likely wouldn't do. Spec-wise it's overpriced, yes, but value is subjective to the buyer and I guess at that point (when I didn't now jack shit about watch making) I liked the design enough to treat myself.
What is the Autodromo Prototipo like?
One could argue that it's worth the money even on the specs side. The finish is great, it uses a Seiko VK64 "meca-quartz" movement which was pretty novel back in 2016. The case with its distinct barrel case has a gorgeous satin finish and the case back is sightly curved to minimise contact with the skin for less irritation. There is certainly eye for detail in the Prototipo, which takes obvious inspiration from racing chronograph of the 1970s – a style of watches I'm a sucker for.
Niggles
The watch is not without downsides though. The hour and minute hand are too close in length which affects legibility quite a bit. It's also only a 5ATM water resistance so it's not a does-it-all, bring-me-on-your-holiday type watch. I would've loved 10ATM and a metal bracelet option. On that note, the integrated lugs look great but they are very snug and you could probably fit a Milanese strap but a nato is out of question.
Alternatives to Autodromo Prototipo
Since the Prototipo is hard to get by nowadays, if you really are on the lookout for one you might include some similar alternatives. Fist that springs to mid is the Brew Retrograph. It shares a lot of design elements with the Prototipo, also utilises a meca-quartz movement and comes in a variety of stylish colours.
The other watch I can think of comes from a brand that fittingly shares Autodromo's love for cars and racing. I'm thinking about MHD CR1, which unfortunately is sold out at the moment, but MHD is a brand to be aware of nonetheless as they make some very unique and interesting pieces.
Why did I sell my PVD Prototipo?
Although the Autodromo Prototipo is 42mm wide it felt too small for me back in 2016. I was used to my 44mm Bambu watches and epsecially with its 20mm and tapering leather strap, the Prototipo was a bit too small for my liking. Today it would've been a perfect fit for my preference, but that alongside the fact that I was too precious about denting and scratching it eventually made me sell it.
But you know, I'm happy I didn't hold back on buying the PVD Prototipo chronograph back in 2016. Because for some reason it didn't stop with buying that Prototipo and be done. It became the stepping stone to check out more watches online, view videos on YouTube from the likes of Urban Gentry.
And that was the start of my new hobby of watch collecting. It's a silly and pointless hobby I admit, but a highly enjoyable way to waste time and income nonetheless. Not too different from playing slot machines, fishing or picking up girls. It's all about intermittent rewards. But more on that another time maybe.