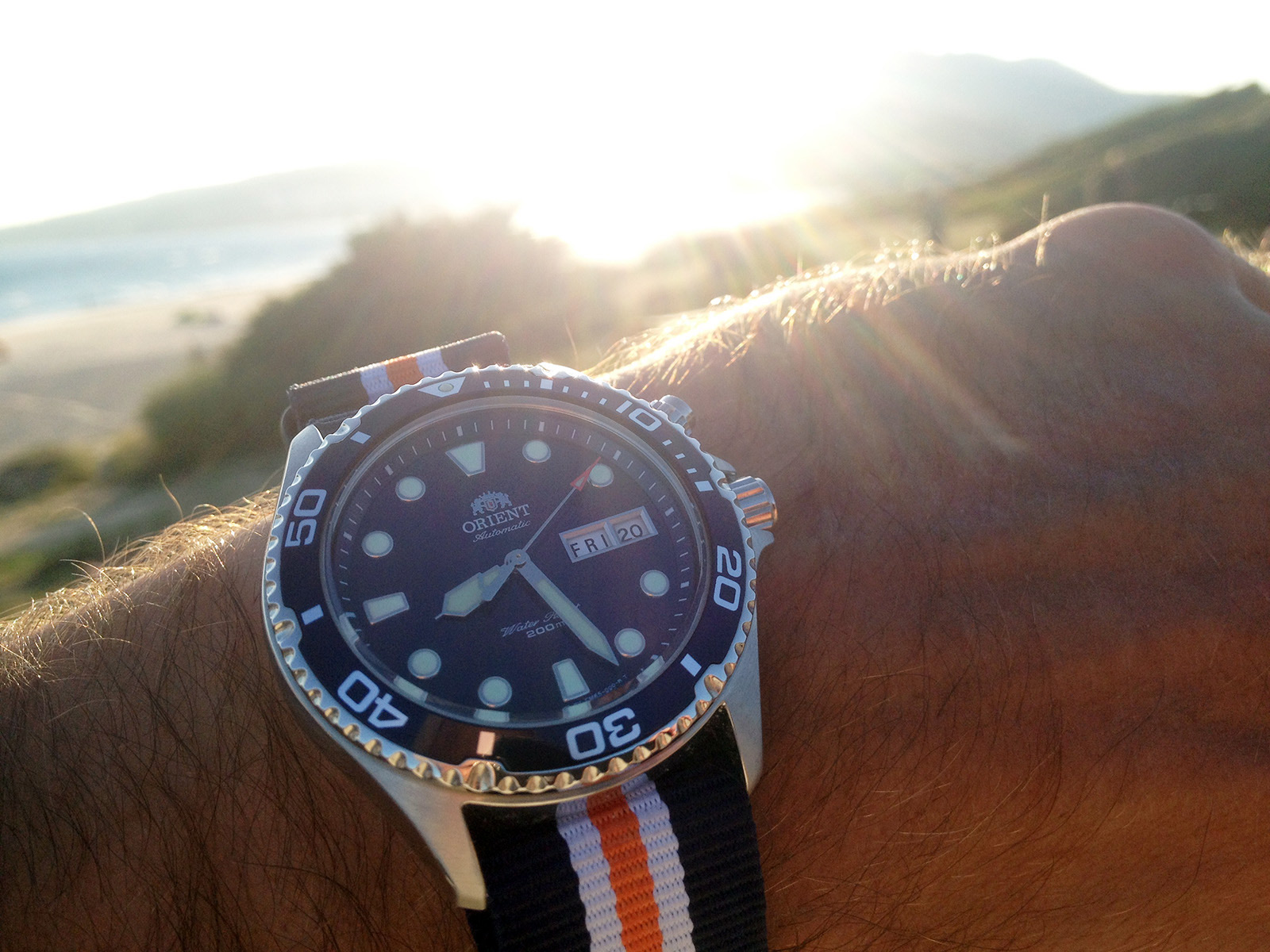 It doesn't take long for anyone getting into watches to find out about Orient. The brand is usually positioned as Seiko's arch nemesis with a slightly friendlier price tag. Orient does in fact make very good value watches with in-house mechanical movements.
It's not strange then that Orient was my first mechanical watch to ever own. Soon after getting the Autodromo Prototipo I was drawn into the sea of dive watches, via hearing about the Seiko SKX009 if I remember correctly.
I remember browsing dive watches online for hours on end. And then finally I decided to get the Orient Ray, not because it was the best watch I could find, but it was sort of a compromise between price, functions and looks.
Orient Ray can be had for a mere £130 but still boasts a solid build, in-house automatic movement, 200m water resistance and pretty decent lume. It's a proper dive watch on a budget and it looks rather elegant too. I put mine on a blue-white-orange nato because I'm a sucker for the Tudor Montecarlo.
Why did I sell my Orient Ray?
I used the Ray for a few months but never fell in love with it. The bezel was really stiff, the overall design a bit too elegant for a tool watch and the size of 41mm simply felt a bit small at the time, coming from 44+ mm watches. The additional pusher used to change the day was at first an interesting feature but later on felt a bit odd. I guess Orient felt the same as they removed it when they updated the Ray to Ray 2.
My love for divers had kicked in regardless and my hunt for the ideal dive watch was already underway. Eventually I found a watch that truly hit home with me. More on that one (and why I sold it) in another post.