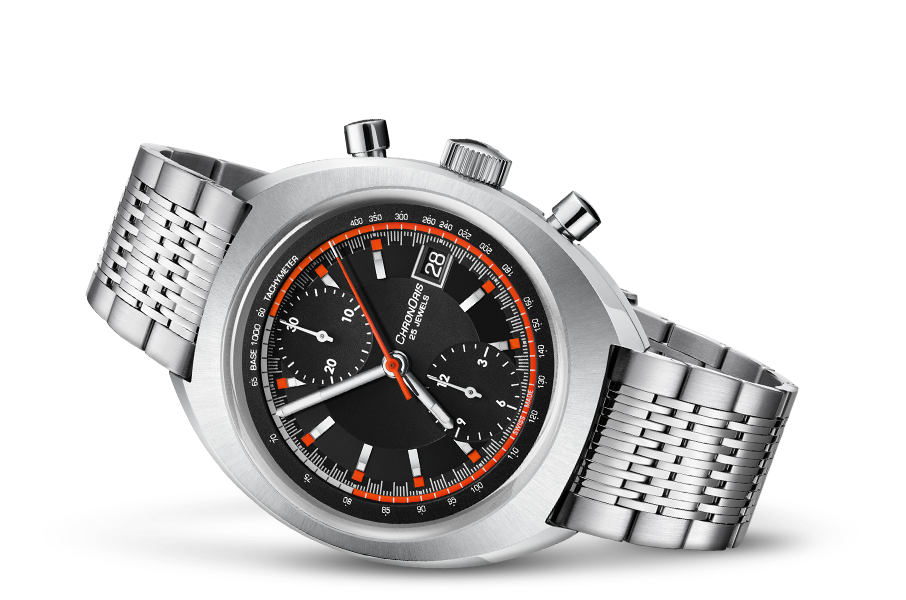 The 1970's produced some of the most interesting watch designs of modern time. It was a time where mechanical watches still filled a function, be it for diving, racing or navigating. That combined with the funky aesthetics of the decennium produced some bright and iconic chronographs. The chronograph watch face in particular lent itself to some very interesting colour and shape combinations.
Well working 70's chronographs are expensive and hard to come by nowadays, but thankfully there are more than me who adores this particular watch style. Re-issues and new designs paying homage to the 70's classics can be found in all price classes and for all budgets.
Take a look at this curated list of seven of my favourite chronographs that could've been taken straight from the 70's.
Vertigo Tornante
Starting at the bottom of the price range, we have the very affordable and strikingly 70's styled Vertigo Tornante. Especially the brown version is worthy a cameo in any movie taking place in the 70's. It features a mecca-quartz movement and costs €230 from Vertigo's website.
https://www.vertigowatches.com/home/watches/racing-watches
ROUE TPS
Roue definitely got it going for them. A design-first, young company that seems incapable of releasing something less than mouth-watering. My favourite model has to be the TPS, which houses a mecca-quartz movement and costs $305. There are plenty of colour combinations to choose from but they all share a strong 70's vibe.
Brew Metric
Next up we have another funky design to say the least. Already sold out on Bew's website, they are clearly doing something right. Brew has recently developed a lot of retro loooking, yet timeless models and the Metric is no exception. Especially the Retro dial is so 70's cool you'd be excused for ogling. When it comes back in stock it can be had for $395 at Brew's website.
https://www.brew-watches.com/watches/brew-metric-retro-black
Maen Skymaster
I remember when Maen launched their first model via Kickstarter, somewhere around five years ago. Since then they've kept pushing the envelope, always with a keen eye for detail. Maybe their most seductive model yet, the Skymaster is a 38mm Swiss automatic chronograph with a price tag at €959.
The Skymaster comes in various colours, but if you want that bold 70's look you should look at the Thunder edition.
Christopher Ward C65 Chronograph
When CW published the C65 Chrono my heart skipped a beat. I love the sea and I love 70's styled chronos. With the C65 you get a regatta/nautocal themed 70's styled automatic chronograph. It's yours for £1,470. Still not as iconic as the final item in this list, but not far from it in terms of perfection.
https://www.christopherward.com/retro-dive-watches/c65-chronograph/C65-41ACH1-S0BB0-B0.html
Oris Chronoris
Oris know a thing or two about retro looking timepieces. Their Oris 65 is a best-seller, and the Chronoris is equally well brought back to life for the modern age watch connoisseur.
Now, it is a limited edition so you won't find one guaranteed. But if you do, you're guaranteed to stand out with a unique 70's true-to-its-era timepiece. RRP £3,050.
https://www.oris.ch/en/watch/chronoris-limited-edition/01-673-7739-4034-set-mb
Tudor Heritage Chrono
Final entry on today's list is a reinterpretation of a 70's classic, and one of my grail watches. The Heritage Chrono is a pretty chunky piece in 2022 but I've tried it on and can still pull it off. It screams summer, sports and the 1970's.
From what I understand, this sexy beast is not in production any more so it might just become a sought after cult classic just like its predecessor. Snag one while you can at a mere £3,480.
https://www.tudorwatch.com/en/watches/heritage-chrono/m70330b-0004
70's styled chronographs are here to stay
It's safe to say that I'm not the only one with a sweet spot for 70's chronos. The bold colours, funky shapes and utilitarian looks speak straight to people's hearts and it's easy to picture yourself in a car chase, spy movie or dive adventure when you look down at your wrist watch.
What 70's styled chronographs did I miss? Leave a comment and let me know what watches you love from the 1970's.