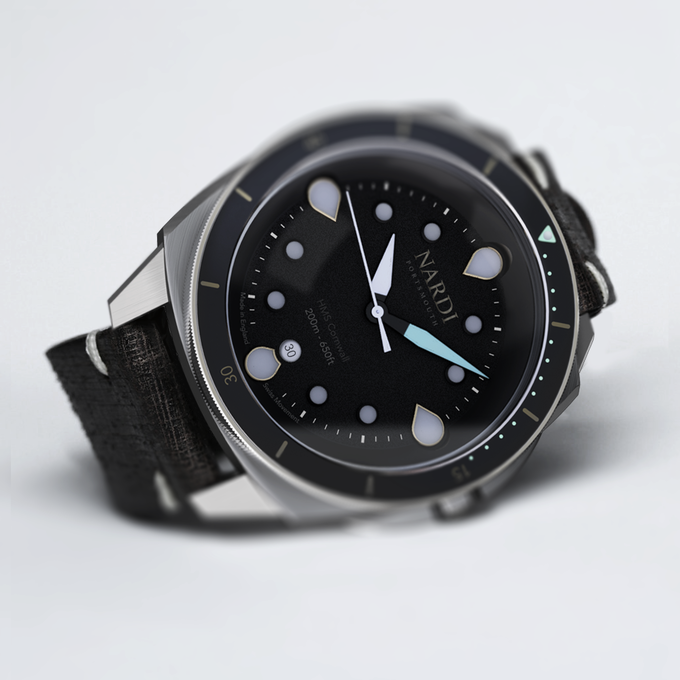 "No need to worry, Mark is just taking his time, focusing on perfecting our watches rather than updating the backers on every single detail."
The comforting words are coming from a fellow Kickstarter.com project backer on the 'backers only' Facebook group. Here, Mark Rogers, founder of Nardi watches has been communicating regularly with his backers for the last 17 months, all while the Corona virus has created chaos in the world and stopped engine in most factories, Nardi's included.
But lately communication has started to slow down, with longer and longer silence between the updates. What we're all waiting for is a gorgeous dive watch made from a UK battle ship scrap metal, paid for up-front to finance the making of it. That is how Kickstarter works. They are quick to say that you're not buying a product on the crowdsourcing platform. You're backing a project which may or may not succeed to deliver the final product.
With no guarantees offered from Kickstarter, this makes the platform ripe for abuse from scammers ready to take your money and walk away. We fear this is what Mark Rogers has now done, and there is nothing we can do about it. A few lucky manages to get a refund from their credit card providers. Others are not so lucky.
Watches on Kickstarter
Watch projects on Kickstarter are common. Most of them are bland off-the-shelf white label products from Chinese factories. Pick a catalogue design, add a custom logo and a soppy background story about how your grandfather got you into horology. Since you can't find a good and affordable watch on the market you feel obliged to design your own to honour him and give the market the timepiece we all need.
Hit 'Go live' and watch the money roll in.
That should be a crime in itself. But if there's demand there's a market, and good marketing works. Scams on the other hand there is no way to sugarcoat. It's the lowest of low and it's sadly common on Kickstarter.
There are of course also genuine, honest and great looking watches available on the platform. I've been a backer of several, of which the Pancor P02 was a great unique looking piece, and the Wolbrook Skindiver WT is one of my favourite watches.
The tricky bit is to detect which ones are too good to be true, or look like they can't make it all the way to delivery.
How to avoid scams and bad projects on Kickstarter
Since Kickstarter doesn't provide any type of guarantee at all, it's up to you as the backer/consumer to do your due diligence on the maker.
Is this the maker's first project? Risky business. The more established a company or maker is the more likely they can be trusted with your money. Still no guarantee though.
Where are they based? Is there a way to contact them, ideally in person, if things go awry? Anonymous mail box addresses won't get my backing.
Is the communication open and honest? Is the pricing and delivery timeline realistic? Are there prototypes out for review with the regular YouTube channels? Don't get fooled by lofty promises without real world backing.
Is the campaign page well made, without typos and stock art imagery? If the maker doesn't care about the detail of the campaign, why would they care about the details of the project?
Kickstarter is beyond its expiry date
If Kickstarter wants to continue to be a well used platform they need to take accountability for scams. Launching watch projects on Kickstarter is still popular, but it's passed its expiry date. Microbrands are ditching the platform for their own website pre-orders and consumers are not willing to take a risk on a pre-order without refund guarantees.
Be careful if you do choose to back a watch on Kickstarter, or if you want consumer rights, why not have a browse of Gloriousdays bamboo watches or my used mechanical collection?
So what happened to Mark Rogers and his battle ship watch in the end? No one knows. It's still a mystery, and thanks to shady policies and lack of consumer rights we'll probably never find out.