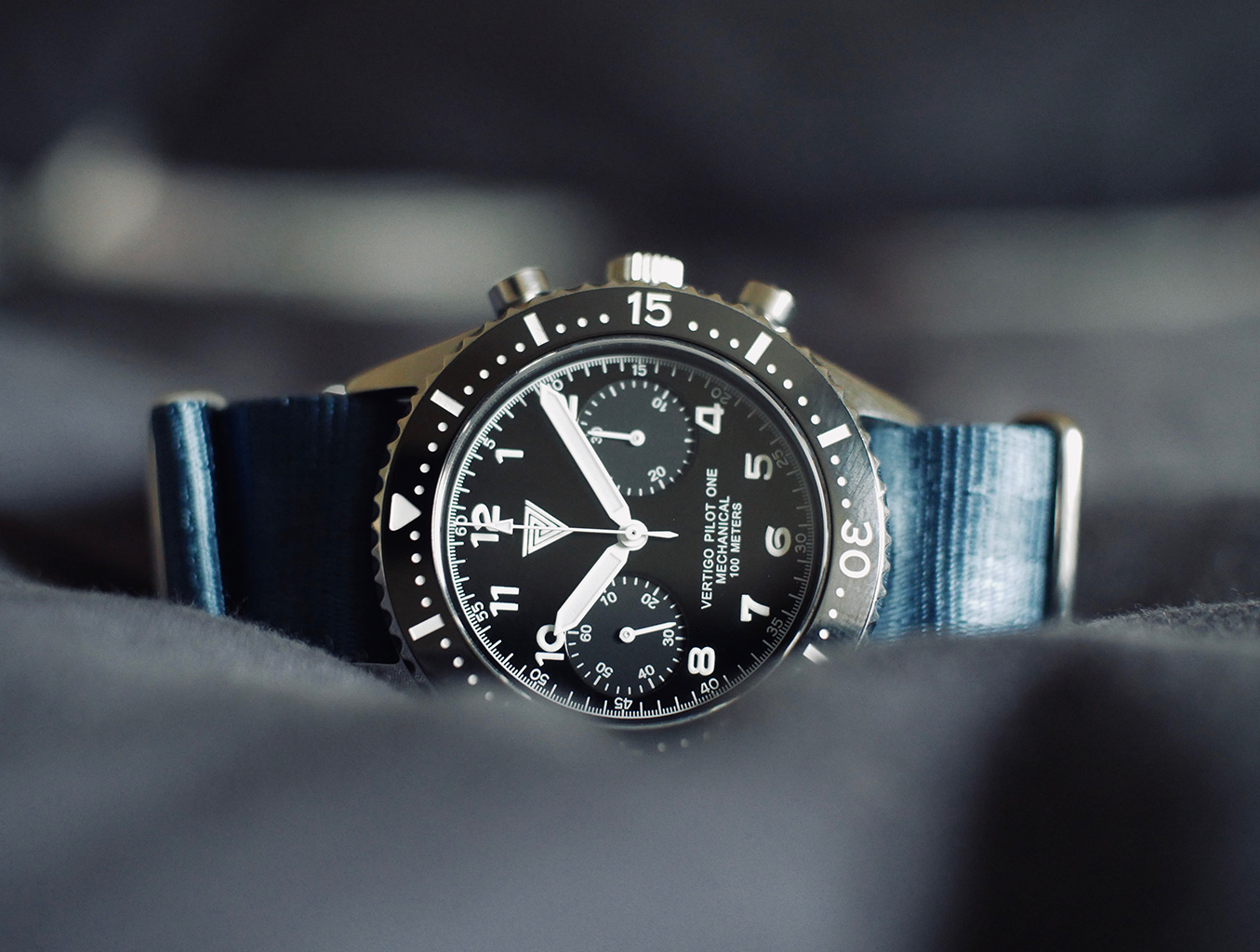 At the time of writing, the Vertigo Pilot One is the earliest watch still remaining in my collection. I've talked about watch collecting before and for me it's a journey of trial and error, dead ends and exploration. No GPS, just pure fun.
That means a lot of watch flipping. But the Pilot One still remains to be flipped. It is indeed for sale if you're willing to pay the price. I've intentionally overpriced it a bit simply because i don't really want to let it go, but at the same time it's given me a good run for the last five years and I could do with downsizing my collection a bit.
The Vertigo Pilot One is gorgeous
I've got a massive soft spot for mid-century utilitarian chronographs. Vertigo's reinterpretation of such a watch bear resemblance with Zenith's Cronometro, Heuer Bundeswehr etc. And it's absolutely gorgeous.
It's 41 x 48.5mm large with 22mm lugs and these dimension makes for a very wearable watch for a lot of wrists. It's large-ish without being too much. The understated colour-way helps with this. Vertigo is an Italian microbrand, and although I'm not sold on their other designs and personally think they're struggling a bit with finding their identity I do think they got this one almost perfect.
The Pilot One comes in all black or a reversed panda option. The panda was originally my pick but I changed my order while still in pre-production. I stick with my choice – The black sub-dials are actually matte dark grey and offers just enough contrast against the black dial to make it interesting.
The watch comes on a black leather strap which I've never used. It's fine for a more dressed up look, but that's not how I wear mine. It looks best on a nato strap, or one of my favourite options is a rattly Seiko SKX jubilee bracelet.
Functionality wise it houses a Seagull ST19, manual wind chronograph movement. Basically the only mechanical chronograph you'll find under £1000. It's fine. Runs a bit fast but still within reasonable limits. I use the chronograph a lot in the gym to time the break between sets. It also comes with a uni-directional dive bezel.
Vertigo Pilot One is not flawless
I do have some wishes, should Vertigo ever make a Pilot Two (or Pilot One v2).
I'd prefer an aluminium bezel insert instead of ceramic. That's the utilitarian look I prefer.
I'd like a domed sapphire or Hesalite crystal instead of the flat one.
The bezel click action is not great. It feels a bit cheap and flimsy.
Part from that this watch is still in my possession for a reason. It is a very nice watch.