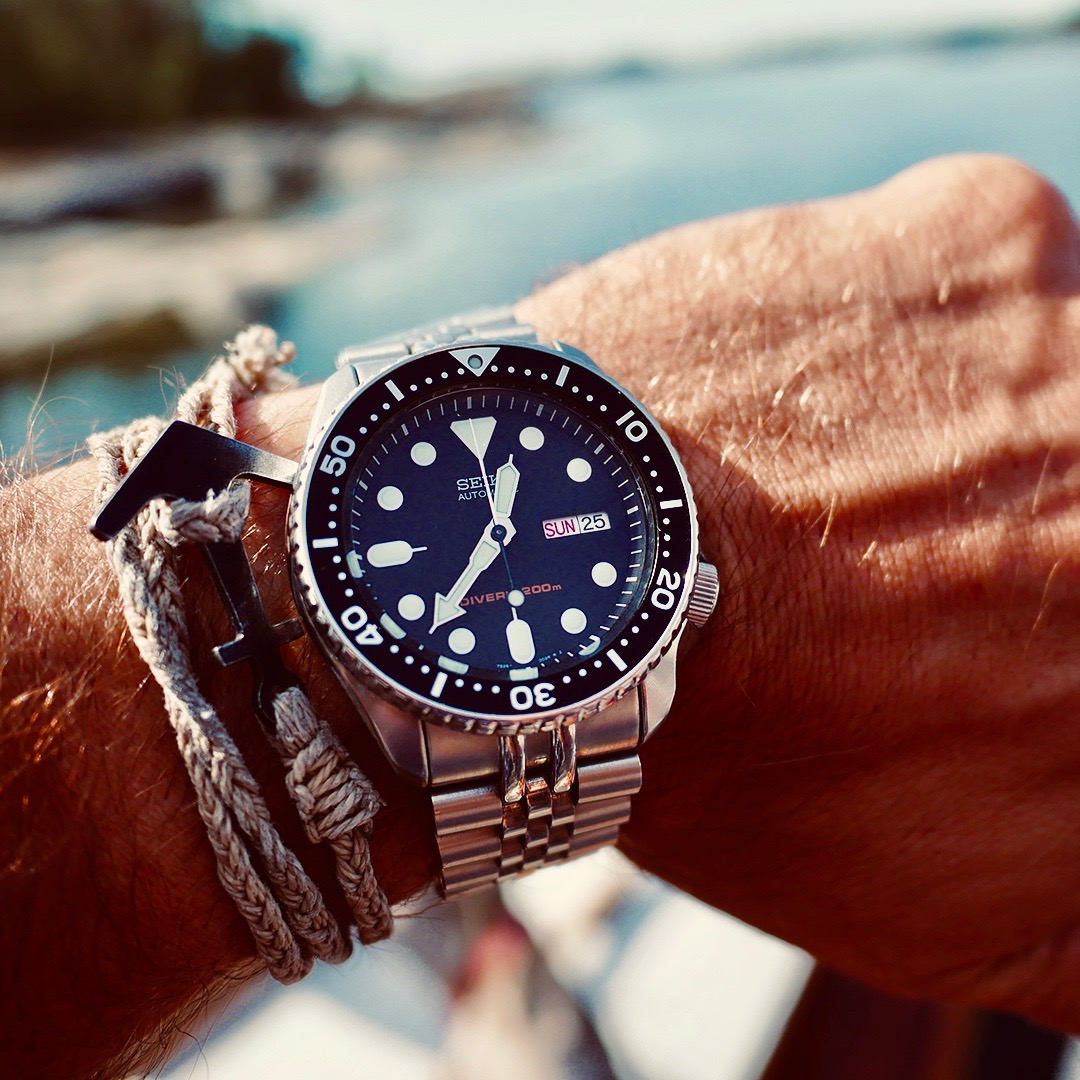 What can I say that haven't been said already about the legendary Seiko skx007? Really not much. This iconic model has been examined and described to death, primarily because it's seen as the gateway drug into mechanical watches.
The skx007 and 009 were indeed very well-specced, ISO-certified mechanical dive watches that could be had for a small amount of cash. That combined with a unique design that manages to straddle both safe and bold design territories alike was the recipe for success since their launch in the mid-90s.
What's so appealing about the Seiko skx?
I've always liked the design of the skx. So much that I got the bigger version from Deep Blue in 2016. In 2018 I bought a used skx on ebay, which came on an upgraded MILTAT jubilee. Maybe it was curiosity, or that I was now ready for the slightly smaller 42.5mm diameter of the skx. Either way I really enjoyed wearing it, and it became my travel companion across South East Asia for four months.
It's a dive watch, bold and legible. Understated with a timeless design. It's not retro and doesn't bear the hideous design cues of the 90's. Its case is beautifully soft and organic and the dial carries that softness across in the printed markers.
If you like adventures with a slightly analogue feel you might enjoy this watch.

Is the skx worth the hype?
Yes and no. The SKX was discontinued a few years back and as a result 2nd hand prices went through the roof. It's a cool watch, but unless you really really really want it, the recent bloated prices aren't justified and should not be encouraged by buying one at that price. You can get much better watches for £600 (this watch used to be £150). Just in the Seiko range you can get their new GMT for £400, or a Turtle for £300.
Why did I sell my Seiko skx007?
I sold my skx because I broke it while trying to adjust it. It was a second hand purchase and after owning it for two years the watch was falling behind almost 30 seconds per day. I accidentally touched the balance wheel or something else in the movement and after that the watch would not operate. I tried to find a solution online but couldn't. Probably it was an easy fix for someone knowing what they're doing but in my case I just sold the faulty watch.
Although I really enjoyed my skx I would probably sell it in todays inflated market and cash in if I still owned it. Today I own a blue Turtle which sort of replaced the skx in my collection. In many ways the Turtle is not only the official successor to the skx, but it's also taking its adventurous spirit and features to the next level.